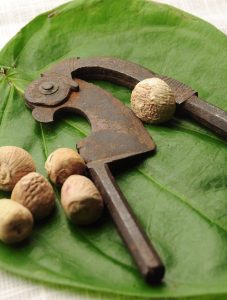 Certified Organic ‑ Whole Betel Nut (Areca catechu, Supari), blessed and energized.
Betel nuts are used very much in puja, mantra recitation, for oaths and various other rituals as well as for medicinal and recreational use.* Lord Ganesha is the first god to be worshipped during every festival. The statue of Gauri or Ganesha is established on betel nuts. It is used to worship God and is considered as a complete holy fruit. So people offer the holy thread to the betel nut considering it an idol.
It is advised that one should store the betel nut inside the vault where one stores money. Ganesha is connected to Lakshmi and storing the betel nut inside the vault will give a boost to the person's economic prosperity.
Click here to read more on Betel Nut*
*These statements have not been evaluated by the Food and Drug administration. This product is not intended to diagnose, treat, cure, or prevent any disease.